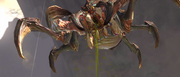 The Broodling, also called Chain Spiders, are the demonic offspring of Silitha. They appear to be huge spiders, similar to their mother, with huge legs and sharped mouths. These are the creatures that capture War when he tries to invade Silitha's Loom. They are often seen in the Loom, trying to stop War from finding Silitha. There are various types of Chain Spiders, including a miniboss that War must face to reach his goal. There are also smaller variants War will face.
Ad blocker interference detected!
Wikia is a free-to-use site that makes money from advertising. We have a modified experience for viewers using ad blockers

Wikia is not accessible if you've made further modifications. Remove the custom ad blocker rule(s) and the page will load as expected.