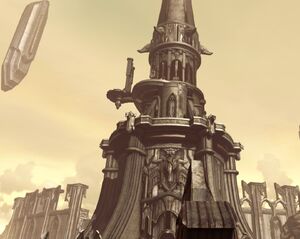 The Crystal Spire is a location in Lostlight. It is here here where Death meets the Archon, a powerful Angel trusted with guarding the key.
It contains a portal to Earth, where Death must find the Rod of Arafel to gain access to The Ivory Citadel. He is aided by Uriel and her Hellguard.
Earth is where the Light of the Fallen quest must be completed.
The Earth level is a homage to the game Left 4 Dead in style and combat.
Ad blocker interference detected!
Wikia is a free-to-use site that makes money from advertising. We have a modified experience for viewers using ad blockers

Wikia is not accessible if you've made further modifications. Remove the custom ad blocker rule(s) and the page will load as expected.