The Darksiders Wiki is a collaborative encyclopedia for everything related to the Darksiders series. There are 423 articles and growing since this wiki was founded in November 2009. The wiki format allows anyone to create or edit any article, so we can all work together to create a comprehensive database for the Darksiders series.
Content
Featured Article
The Horseman War has charged into countless battles astride his spectral steed Ruin, leaving a trail of blood and bones in his wake. His eyes and hair are as white as the chill he casts on his enemies, for the fury of his sword is unmatched. As unyielding as time itself, War is both honourable and savage.
When summoned to the Final War, the Horseman's task was to purge the Earth and bring the Kingdoms of Heaven and Hell into a new era. But he was betrayed, and his actions wrote the end to the chapter of man. Now, War seeks his revenge. Surely, only the Horseman's wrath can burn away the pure evil of the Destroyer's reign.
Ruin is the legendary steed of the Horseman War. When Ruin emerges from the earth in a cloud of swirling flame, his master's enemies are truly doomed. Astride his mount, War strikes harder, faster, and wider, his powers magnified by the stallion beneath him.
Across the cursed planes of Earth, nothing will escape the blazing union of War and Ruin. (Read more...)
Featured Video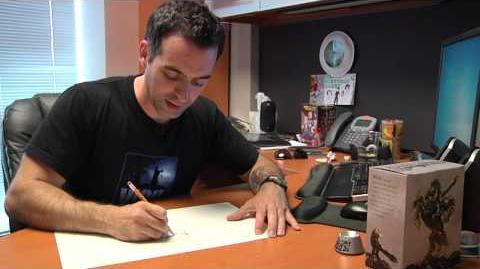 Poll
Are you excited about Darksiders 2 being remastered?
Quote
"
With my power restored, I am like unto a GOD! I could suck the marrow from your bones before you drew another breath. I could... but I too have a code by which I do business.
— Samael
"
Statistics
Since November the 5th, 2009 Darksiders Wiki has:
8,201 pages created
423 articles
1,323 images uploaded
23,725 edits made
9,248,351 registered users
13 active users
7 staff members
Blogs
Create blog post
News
I announce that there is ZERO tolerance for mindless copy-paste procedure from other sites. Especially Darksiders Dungeon. Unless it's a partial, few-line, quoted content with appropriate ref tag. NO…

Read more >

A new video up on gamespot that explains a bit about the scale of the world and some of the zones. If someone could figure out how to put this up on the main DS2 page, that would be wonderful.

Some lo…

Read more >

http://community.darksiders.com/go/thread/view/138695/28968645/THQ_Announces_Darksiders_II_Collectors_Edition__FREE_Limited_Edition_For_All_Pre-orders&msg=The%20thread%20has%20been%20edited.?sort_ord…

Read more >
See more >
Screenshots