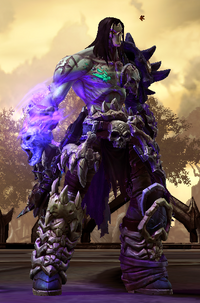 Death Grip is an abilty that Death can use in Darksiders 2. Its function is similar to the Abyssal Chain. It can be used to pull Death to higher ledges or beams he could not otherwise reach. Also it can be used to pull Death's enemies towards him. However if they are large enemies it will pull Death to them instead.
The Death Grip ability is obtained in the Foundry.
Ad blocker interference detected!
Wikia is a free-to-use site that makes money from advertising. We have a modified experience for viewers using ad blockers

Wikia is not accessible if you've made further modifications. Remove the custom ad blocker rule(s) and the page will load as expected.