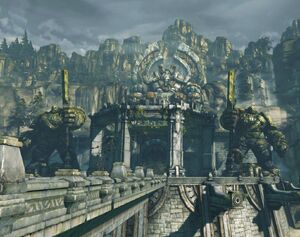 The Foundry is a dungeon in the Forge Lands.
It is the final dungeon in the realm that Death visits during the storyline before entering the Tree of Life in Darksiders II.
The Death Grip ability is obtained in this dungeon.
In the area that the water wheel is activated, a hidden chest can be made to appear by destroying all the pots and debris on one of the platforms.
In the same area, The Triple Lindy achievement can be obtained by diving from three balconies.
Ad blocker interference detected!
Wikia is a free-to-use site that makes money from advertising. We have a modified experience for viewers using ad blockers

Wikia is not accessible if you've made further modifications. Remove the custom ad blocker rule(s) and the page will load as expected.