Upon being freed in the Lost Temple, the Warden can offer Death the quest of locating a long lost Warden named Oran.
Oran can be found near the Fjord, across a body of water. Oran in turn offers the Wandering Stone side quest.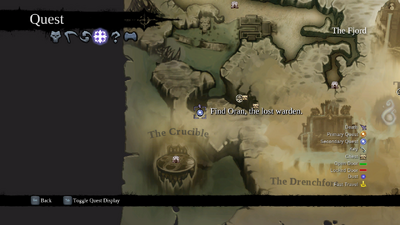 Oran's Missing Limbs
http://www.youtube.com/watch?v=kBiKPjElp_E&feature=player_detailpage
Ad blocker interference detected!
Wikia is a free-to-use site that makes money from advertising. We have a modified experience for viewers using ad blockers

Wikia is not accessible if you've made further modifications. Remove the custom ad blocker rule(s) and the page will load as expected.