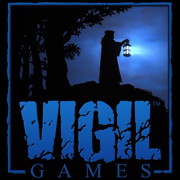 Vigil Games was an American video game company based out of Austin, Texas owned by THQ. It was formed by comic artist Joe Madureira and David Adams. They were also developing the Warhammer 40,000 massively multiplayer online game (based on the universe of the same name by Games Workshop) for PC; and have released Darksiders (an original IP) for the PlayStation 3 and Xbox 360. Darksiders 2 released in August 2012 to positive critical reception.
Vigil Games was not purchased in the THQ disolution auction and was shut down as a consequence.
| Title | Release year | Release Day |
| --- | --- | --- |
| Darksiders | 2010 | January 5 |
| Warhammer 40,000: Dark Millennium Online | Cancelled | |
| Darksiders 2 | 2012 | August 14 |
External links
Edit
Ad blocker interference detected!
Wikia is a free-to-use site that makes money from advertising. We have a modified experience for viewers using ad blockers

Wikia is not accessible if you've made further modifications. Remove the custom ad blocker rule(s) and the page will load as expected.