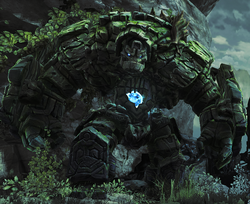 Wandering Stone is a side quest in Darksiders II given to Death by the ancient Warden Oran.
Oran is one of the ancient Wardens still in the Forge Lands found in a small wooded area across the lake in The Fjord. He has been asleep for centuries and can be awakened after Death acquires the Maker's Key. Once awake he notices his body parts are missing and asks Death to retrieve them for him.
Walkthrough
Edit
There are four body parts to find spread across the Forge Lands. They can be found in:
Once all have been activated return to Oran in order to put him back together.
Once Death has returned to Oran the reward is Experience and Gilt.
It also unlocks The Maker's Chronicle quest.
Ad blocker interference detected!
Wikia is a free-to-use site that makes money from advertising. We have a modified experience for viewers using ad blockers

Wikia is not accessible if you've made further modifications. Remove the custom ad blocker rule(s) and the page will load as expected.